WELCOME TO AMAX BEE VERIFICATION
AMAX BEE Verifications is leading the way through the transition phase from IRBA back to SANAS B-BBEE accredited certificates. We offer an innovative approach to sustainable B-BBEE.The company's mission is to enable real transformation through the accurate B-BBEE rating certificates we issue. This insures accelerated growth in the South African economy and helps to bridge the gap between the country's primary and secondary economies.
Through its verification services, AMAX BEE Verifications assists businesses in managing economic empowerment opportunities and risks. We pride ourselves in seeing our clients grow by embracing the B-BBEE verification process and excelling in the new South African economy.The IRBA issued a communique on 4 March 2016 to inform B-BBEE approved registered auditors (BARs) of the IRBA Board's decision to withdraw from the regulation of the B-BBEE verification industry on 30 September 2016.
AMAX BEE Verifications subsequently started the SANAS accreditation process in April 2016. After months of hard work, we can proudly announce that we are accredited by SANAS to issue B-BBEE certificates for the Codes of Good Practice (Notice 36928 of 2013 and Notice 112 of 2007) as well as all Sector Codes as listed below:
Agri
Financial
Forestry
Information and Communication Technology (ICT)
Amended Construction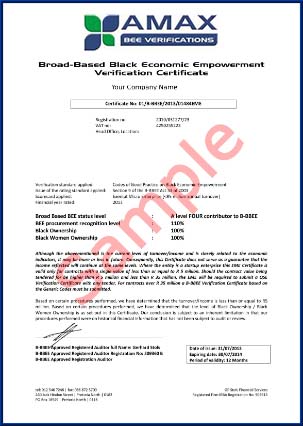 Integrated Transport
Property
Tourism
Marketing, Advertising and Communication
(MAC)
Defence